Payment processing
Sales are supported by flightPOS' proprietary cloud-based payment processing capabilities. Full PCI-DSS compliance for receiving and handling 'store and forward' payments. On receipt of data from a flight, the flightPOS payment processor works its magic before submitting the payment data for settlement. A once-a-day batch process clears down this work. The processor interfaces. The processor interfaces with a reporting and analytics package and can readily integrate with additional acquirers.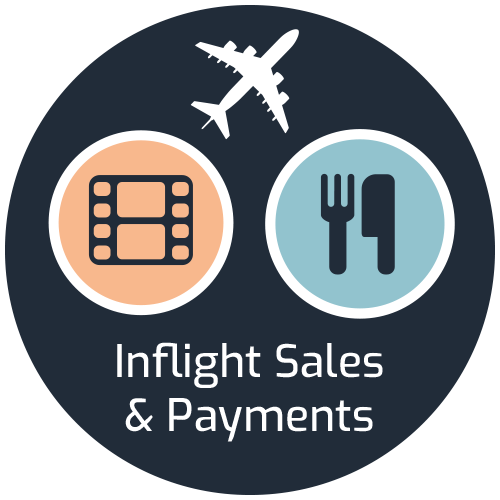 Contact reduction between crew and passengers is fully supported by the W-IFE installations. With ZERO crew intervention, products can be selected and paid for on the passenger's own device. A crew tablet is used as a notification device for orders to be fulfilled.
For inclusiveness, the Crew Notification device can be enhanced by associating with a card reader to capture card details which enables sales support for those passengers without wireless connectivity.
The crew POS provides the regular full trolley service and can include the notification capability for W-IFE orders, providing the maximum in sales opportunity coverage.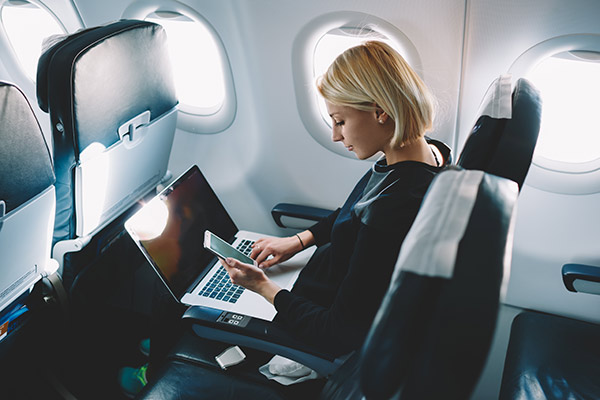 A perfect match with our 5 systems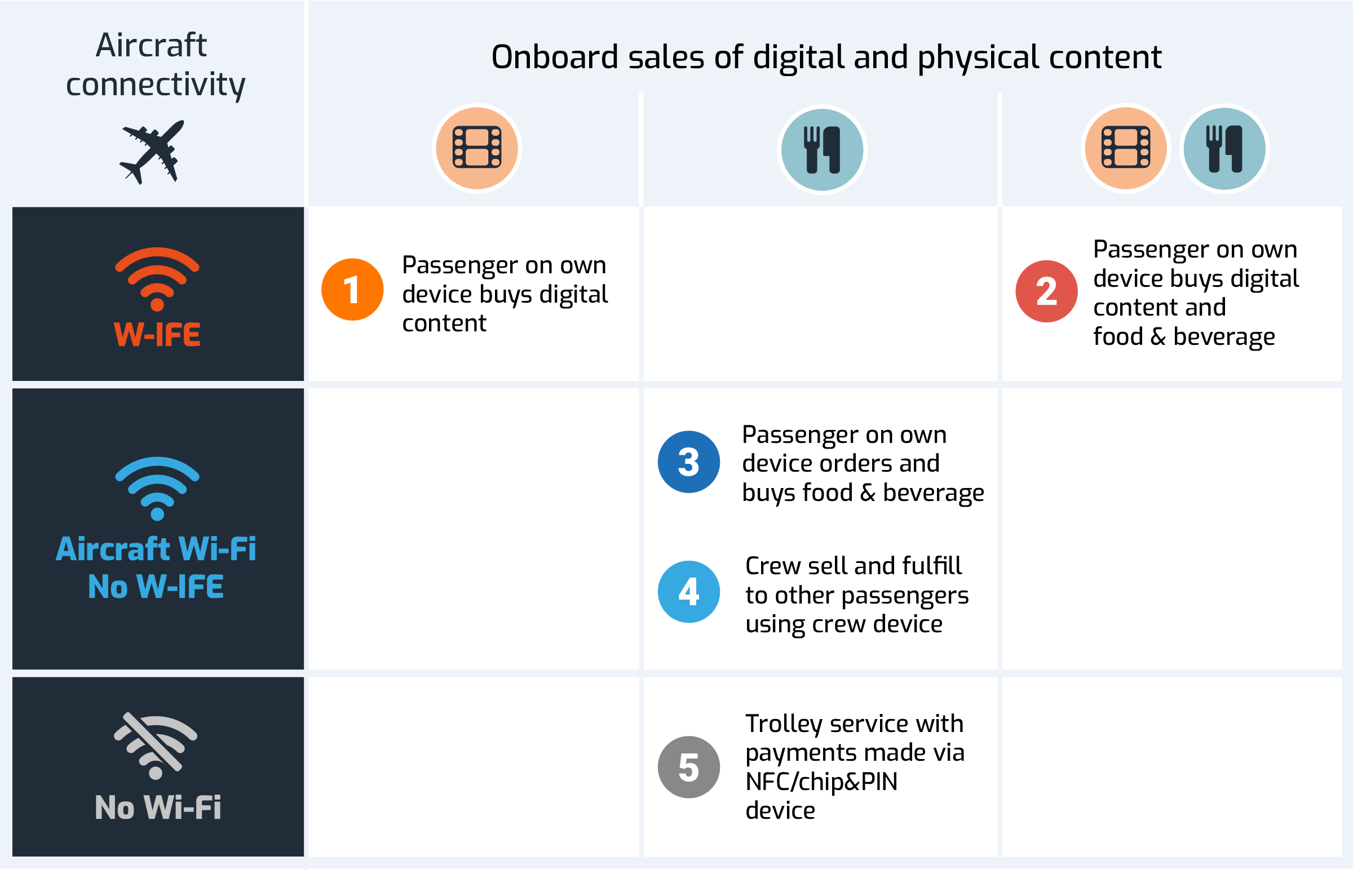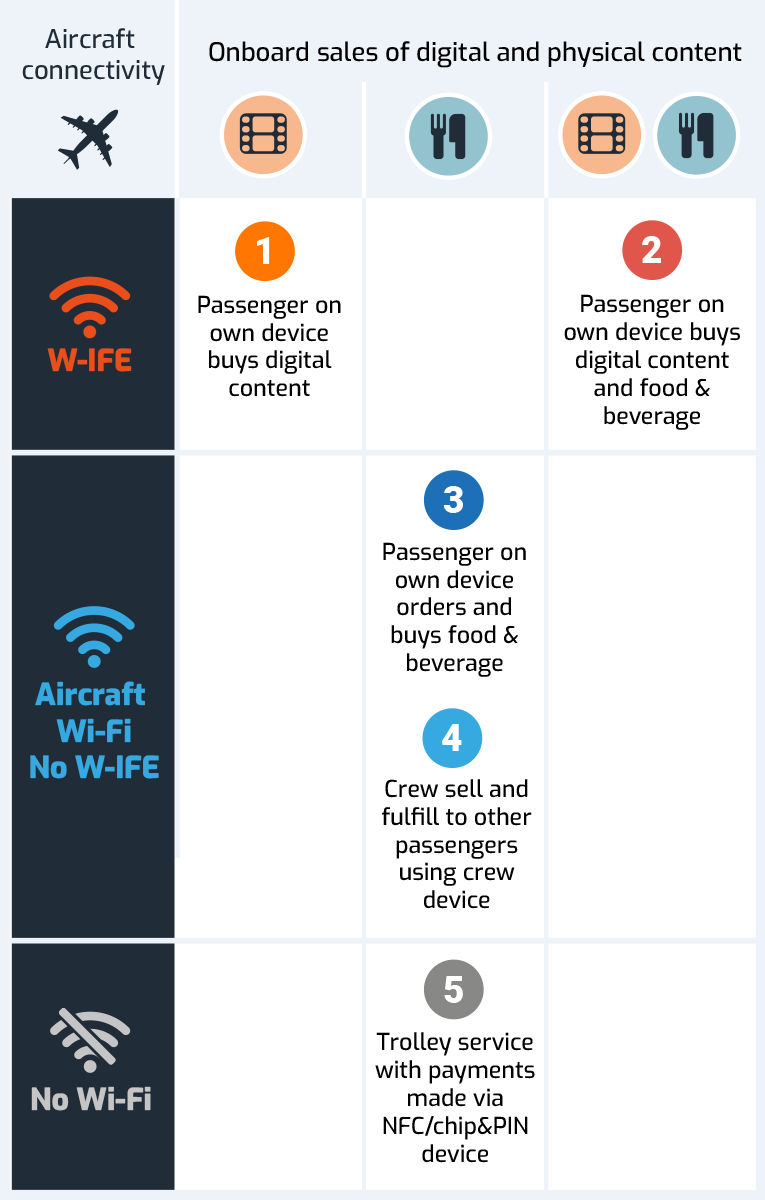 Systems
Combinations of systems can be used to suit any aircraft or fleet. All device-based functionality can be implemented on existing hardware avoiding unnecessary CapEx – e.g. crew tablets, crew mobiles.
System 1

flightPOS' integration of the payment software with the W-IFE vendor of choice for the airline. flightPOS can provide the full W-IFE system through our partnering relationships, with the ability to go from concept to live in a month in most cases.
On their own devices, passengers pay for full access to the system or for individual digital content provided on the W-IFE. No crew intervention required, the passenger makes payment and flightPOS ensure that payment lands in the airline bank account.
Merchant accounts can be created, and APIs exist to integrate with specific acquirers if needed.
System 2

All the features of System 1 plus the ability to sell trolley stock or simply selected products.
Provision of the crew notification method allows the crew to be informed of orders placed once they are paid for. Crew can deliver the order to the seat with the option of editing the order. The products are managed so the passengers cannot order out of stock items.
System 3

For aircraft without W-IFE but with airline Wi-Fi, flightPOS can install a dockerised module allowing a sales platform for passengers to order and buy F&B on their own devices.
Crew notification device allows sales to be fulfilled. Full history of activities exists, multiple crew devices are supported, only one crew member can claim an order to fulfill ensuring smooth operations onboard.
System 4

Some airlines may not want to drive all passengers to wireless based sales. With this option the crew notifications device plus card reader provides Chip&PIN or contactless capability for those gadget-free passengers.
System 5
Fully featured trolley-based retail system. This complex system provides everything an airline needs to run on board sales securely. Some of the features captured:
Crew opening and closing processes
Stock and trolley security controls
Crew management, commissions
Payments, multi-currency / dual currency
Multi-warehouse support, uplifts
Flight route- and sector-based data
Optional integration with W-IFE
Email Receipts
To complete the payment options there is the need to provide receipts. Receipts by email avoids using printer paper which reduces the stresses on both logistics and budgets.
Receipts by email also provides unobtrusive options for the airline to further generate revenue. Receipts have two sections for graphics that are configurable. The graphics can be linked to webpages and used to promote special deals or offers, destination attractions or services.
Let's talk about a solution for your business
Start your free consultation
Reviewing retail operations is something that has taken on more significance since the global slowdown. Allow flightPOS to be part of your review team and contribute to the thought processes. It may be interesting to see how a 'challenger' retail and payment solution can reduce opex and enhance your revenue streams.
If the sound of a crew independent W-IFE deployment with passenger device-based payments is appealing, we have a complete solution to offer and are available to discuss. Full integration with crew and trolley content is an option.
Sometimes there are novel technical needs, flightPOS modular systems have the flexibility today to meet current and future aims.