Control in the cloud
The cloud-hosted System Manager element is made up of key components which drive the entire airline retail environment. Access is role-based giving each user exactly what is needed to carry out their tasks.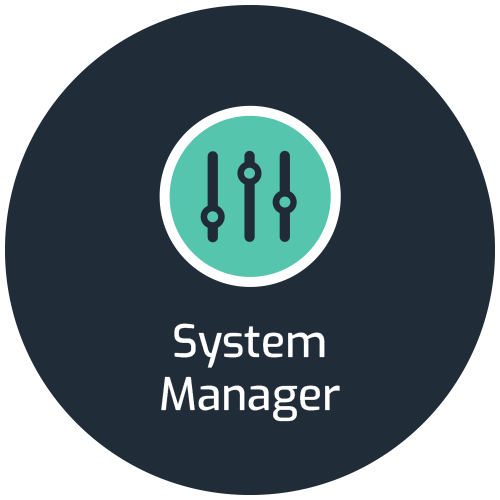 The heart of the operation
flightPOS breaks the System Manager element into:
All data can be manually entered and edited while multiple APIs can be integrated to provide dynamic data from airline provided data-feeds from crew, flight, and product systems.
The data lake holds all airline related data returned from flights and interfaces to the configuration data. This allows full reporting and comparisons to meet user defined needs. The dashboard features are role specific and can be created to suit the airline.
The trolley life cycle is laid bare in the warehouse section of the system manager.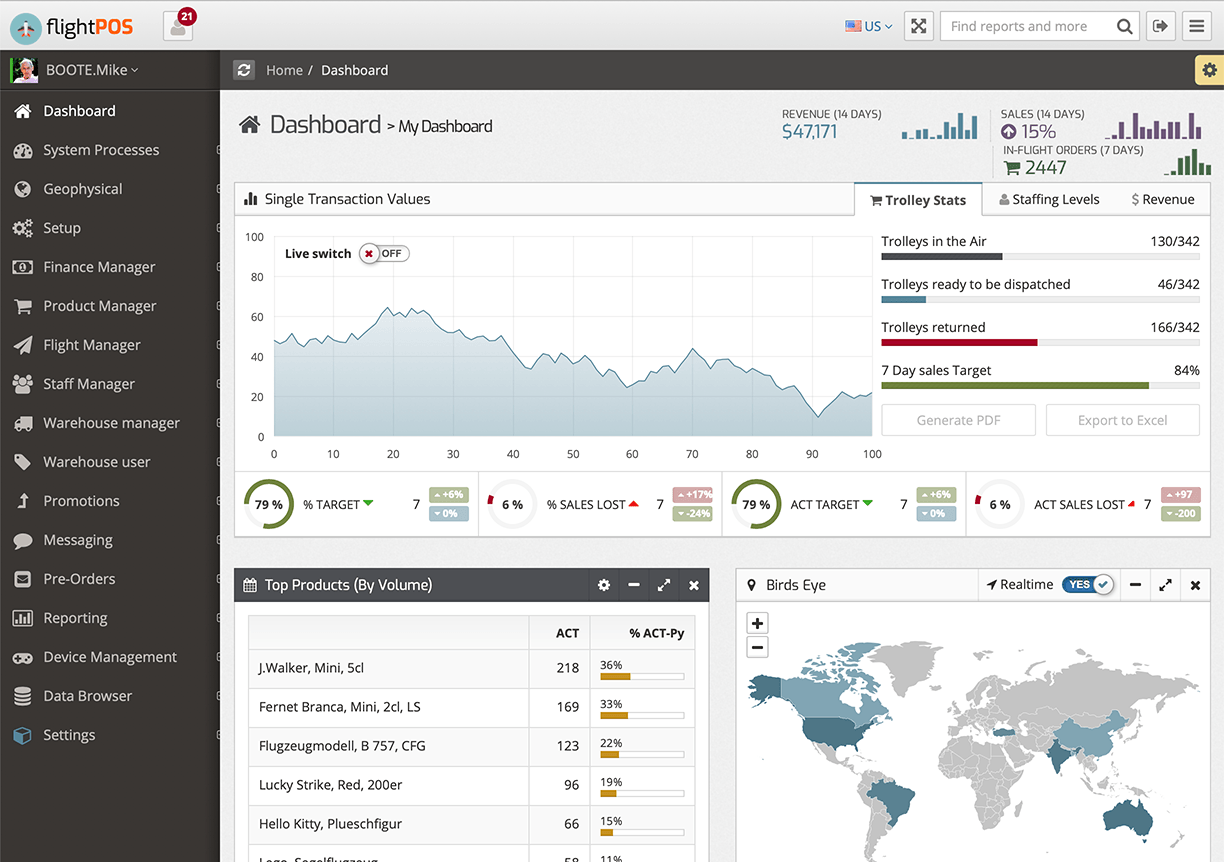 Configuration
Initial configuration and setup are completed working closely with flightPOS.
The areas needed for configuration are:
Airline business details
Geophysical – data related to all locations of interest for the airline
Finance related data – e.g. exchange rates, taxes, currencies
Product information – the many product attributes and promotion strategies s
Flight related data
Staff – Crew, rostering and commission algorithms
Getting the initial configuration correct is paramount. Each element has a level of complexity to consider e.g. Commissions – Are they rank based? Do all products attract commission? Is the commission rate dependent on product category? Does each crew member receive a commission statement and if so, how – printed document, email or online?
Data analytics
Immense volumes of data are produced by a busy airline. This data, properly presented, feeds back into decision making and allows analysis of the many metrics available. The entire output from analytics can be customised to match an airline's needs.
Warehouse management
Warehouse and trolley management fall into three categories for flightPOS:
Integration with existing third-party warehouse functions
flightPOS provided warehouse and trolley management
No warehouse management in the flightPOS system. This may be the case if every aircraft in a fleet has exactly the same loading and the warehouse is owned by the airline.
Packed, sealed and assigned trolleys are managed in parallel with the flightPOS crew processes on board.
Trolleys are tracked from warehouse receipt through to dispatch. In the warehouse trolleys are packed to latest date-driven packing plans before being assigned to an aircraft, defined by the loading list. These route or aircraft specific loading lists are configured by the Product Manager.
Multiple warehouse locations are supported by the flightPOS system.
Let's talk about a solution for your business
Start your free consultation
Reviewing retail operations is something that has taken on more significance since the global slowdown. Allow flightPOS to be part of your review team and contribute to the thought processes. It may be interesting to see how a 'challenger' retail and payment solution can reduce opex and enhance your revenue streams.
If the sound of a crew independent W-IFE deployment with passenger device-based payments is appealing, we have a complete solution to offer and are available to discuss. Full integration with crew and trolley content is an option.
Sometimes there are novel technical needs, flightPOS modular systems have the flexibility today to meet current and future aims.